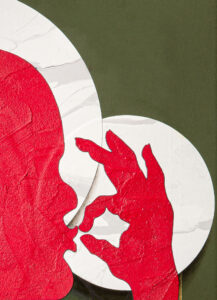 Curated by Joanne Mattera and Joseph Sciorra
Exhibition opening takes place on Wednesday, September 27, 2023, at 6pm.
The work of the twenty-one artists featured in this exhibit offers a richness of form, medium, subject matter, color, and style that is a delight and a revelation to behold. Connections to a discernable Italian art tradition—or for that matter to Italian American aesthetic practices more specifically—vary across the exhibition, ranging from the explicit to the suggestive to the nonexistent.
After the opening on September 27, the exhibition will be accessible during business hours, 9:00am to 5:00pm, Monday through Friday, and is located in the Galleria of the John D. Calandra Italian American Institute.
Detail of Due Facc', by John Avelluto, 2020