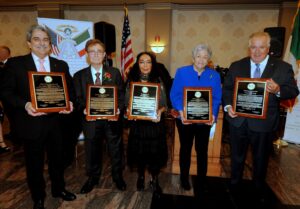 On October 22, 2023, at their  87th Annual Dinner Dance Italian Charities ofAmerica celebrated these Italian and Italian American honorees for their outstanding work and achievements in promoting and preserving Italian American culture, heritage, history, and pride:
Cav. Anthony Julian Tamburri, PhD, honored with the Italian American Leadership Award
Nino Provenzano honored with the Italian Regional Languages Award
Alessandra Belloni honored with the Renaissance Award
Comm. Aileen Riotto Sirey, PhD honored with the Lifetime Achievement Award
Comm. Angelo Vivolo honored with the Christopher Columbus Award
Min. Plen. Fabrizio Di Michele (not pictured) honored with the Italian Ambassador Award
We are exceedingly proud of the vision, skills, intelligence, reasonableness, good humor, and leadership of Dean Tamburri. Auguri.