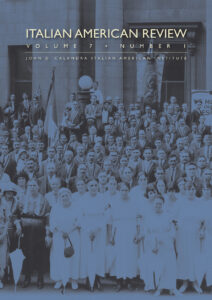 Our Italian American Review online content access has just been updated.
NEW! Now read the reviews from the latest issue, 8.2 and the complete contents of 6.2.
Italics: Television for the Italian American Experience aired Tuesday, November 13, with a new episode on the Elena Ferrante Phenomenon. Here in the United States, Ferrante is best known for her New York Times best-selling Neapolitan Quartet of Novels, about two friends growing up in postwar Italy. One of the nation's most beloved novelists today, Elena Ferrante has garnered great praise both in Italy and in the United States. To discuss this unprecedented cultural event with us are Giancarlo Lombardi, professor and executive officer of the Department of Comparative Literature at the Graduate Center of the City University of New York, and Rebecca Falkoff, professor of Italian at New York University. Both guests have significant publications on Elena Ferrante. (Taped: 10/16/2018) Click here to watch the episode.
If you read or understand Italian, you can get a sense of the tenor of last week's exciting conference Diaspore Italiane: "Transnationalism & Questions of Identity" from this article in La Voce di New York and by watching the video-taped conversation between Maddalena Tirabassi, Stafano Luconi, and Simone Battiston.