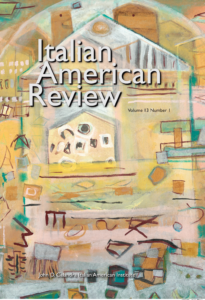 David Aliano
, Editor
The Italian American Review (IAR), an interdisciplinary, bi-annual peer-reviewed journal of the John D. Calandra Italian American Institute, publishes scholarly articles about the history and culture of Italian Americans, as well as other aspects of the Italian diaspora. The journal embraces a wide range of professional concerns and theoretical orientations in the social sciences and in cultural studies. The journal entertains articles about such topics as migration, politics, labor, race and ethnicity, urban studies, gender studies, literary criticism, as well as various forms of cultural production (religious feasts, cinema, music, etc.), especially those addressing societal aspects. The IAR publishes book reviews, film and digital media reviews, exhibition reviews, and an occasional section of "Notes and Documents." The IAR does not publish creative work such as poetry, fiction, or memoir.
The IAR is published and distributed by the University of Illinois Press. The journal will be available online through EBSCO's "America: History and Life" databases and Duke University Press's Scholarly Publishing Collective. The IAR is listed in the Modern Language Association (MLA) Directory of Periodicals. IAR is classified by the Italian National Agency for the Evaluation of the University and Research Institutes (ANVUR) as a Scientific Journal in Area 10 (Antiquities, Philology, Literary Studies, and Art History), Area 11 (History, Philosophy, and Pedagogy), and Area 14 (Political and Social Sciences). It additionally enjoys ANVUR's highest "class A" ranking for area studies 11/A5 (Cultural, Ethnic, and Anthropological Studies) and 14/C2 (Sociology).
Social Science Journal
ISSN: 0535-9120
For information about a call for submissions for an upcoming special issue of the IAR on Periodicals in the Italian Diaspora, click here.
To subscribe to the IAR or to buy single issues, go to https://www.press.uillinois.edu/journals/iar.html.
Editorial Office
Editor: David Aliano: Associate Professor of Italian and History, College of Mount St. Vincent
Associate Editor: Anthony Julian Tamburri, Dean, John D. Calandra Italian American Institute
Associate Editor: Fred Gardaphé, Distinguished Professor of English & Italian American Studies, Queens College
Editorial Director: Joseph Sciorra, Director for Academic and Cultural Programs, John D. Calandra Italian American Institute
Managing Editor: Rosangela Briscese, Assistant Director for Academic and Cultural Programs, John D. Calandra Italian American Institute
Assistant Editor: Siân Gibby, Communications Writer-Editor, John D. Calandra Italian American Institute
Book Review Editor: Robert Oppedisano, Independent Scholar
Exhibition Review Editor: Melissa Marinaro, Director, Italian American Program, Senator John Heinz History Center
Film and Digital Media Review Editor: Rebecca Bauman, Fashion Institute of Technology
Editorial Board
Marcella Bencivenni, Hostos Community College
Giorgio Bertellini, University of Michigan
Nancy C. Carnevale, Montclair State University
Donna Chirico, York College, CUNY
Simone Cinotto, University of Gastronomic Sciences, Pollenzo Campus
Teresa Fiore, Montclair State University
Donna Gabaccia, University of Toronto Scarborough
John Gennari, University of Vermont
Jennifer Guglielmo, Smith College
Nicholas Harney, University of Windsor
Stefano Luconi, Università degli Studi di Firenze
Loredana Polezzi, Stony Brook University
Laura E. Ruberto, Berkeley City College