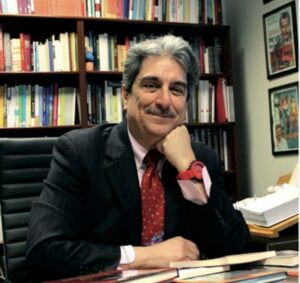 Anthony Julian Tamburri is the Dean of the John D. Calandra Italian American Institute (Queens College, CUNY) and Distinguished Professor of European Languages and Literatures. His research interests lie in literature, cinema, semiotics, interpretation theory, and cultural studies. He has divided his intellectual work evenly between Italian and Italian/American studies, authoring more than a dozen books and one hundred essays circa on both subject areas in English and Italian. He is also the editor of more than thirty volumes and special issues of journals. His most recent publications include: authored volumes: Re-reading Italian Americana: Specificities and Generalities on Literature and Criticism (2014); Re-viewing Italian Americana: Generalities and Specificities on Cinema (2011); Una semiotica dell'etnicità: nuove segnalature per la scrittura italiano/americana (2010); and Narrare altrove: diverse segnalature letterarie (2007); co-edited volumes: The Cultures of Italian Migration: Diverse Trajectories and Discrete Perspectives (2011); Mediated Ethnicity: New Italian-American Cinema (2010); and Italian Americans in the Third Millennium (2009).
Among his editorial work, he is contributing co-editor of the volume From The Margin: Writings in Italian Americana (1991; 2000 2nd) and co-founder of Bordighera Press, publisher of the semi-annual Voices in Italian Americana, Italiana, and three book series, VIA Folios, Crossings, and Saggistica, as well as The Bordighera Poetry Prize.
Tamburri has founded and directed summer programs in Italy and also held positions for the University of Pennsylvania and Middlebury College's Scuola Estiva Italiana. He was also the first Esposito Visiting Faculty Fellow at University of Massachusetts, Dartmouth.
Tamburri has been the recipient of various, academic, and scholarly awards and grants over the years. While still at UC Berkeley, he was awarded a Regents Scholarship and the Italian-American Fellowship. He also received a Certificate of Appreciation for Distinguished Contribution to the National Defense while at Purdue University, where he was also a recipient of numerous Research Foundation Grants. Southern Connecticut State University named him its Distinguished Alumnus for the year 2000, where he earned a B.S. in Italian and Secondary Education. In 2006, he received the Association of Italian American Educators Award for Promotion of Italian Language and Culture. In 2010, ILICA honored him with its "Frank Stella Person of the Year Award"; in that same year, he was conferred the honor of Cavaliere dell'Ordine al Merito della Repubblica Italiana and was recognized for his "Service to the Community" by the Garibaldo-Meucci Museum. In 2012, he received "The Lehman-LaGuardia Award for Civic Achievement" conferred by the New York Grand Lodge Commission for Social Justice of the Order Sons of Italy in America and The Metro North Region of B'nai B'rith International.
Tamburri is a member of numerous organizations for which he has also held administrative positions and national office. He has been a Delegate for Foreign Languages of the Modern Language Association, a member of its Executive Committee for the Division on Modern Italian Literature, and co-founder of the Discussion Group on Italian/American Literature. For the American Italian Historical Association, he was the Newsletter editor for eight years, a member of its Executive Council since 1993, and its president from 2003-2007. He was also vice-president of the American Association of Teachers of Italian for 2006-2007, and served as president for 2008-2009.
Tamburri's degrees are from Southern Connecticut State University (B.S., Italian), Middlebury College (M.A., Italian), University of California, Berkeley (Ph.D., Italian & Spanish). In addition to teaching at Smith, Middlebury, and Auburn, he spent thirteen years at Purdue University before moving to Florida Atlantic where, from 2000 to 2006, he served as Chair of Languages and Linguistics and, subsequently, Associate Dean for Research, Graduate, and Interdisciplinary Studies, as well as director of the Ph.D. in Comparative Studies.
Tamburri is also executive producer of the TV program Italics (TW 75, RCN 77) and a member of the founding directors of the Internet portal i-Italy.org.
You can follow him on Twitter at @Tamburri. See his website for more information.
Click here for CV.