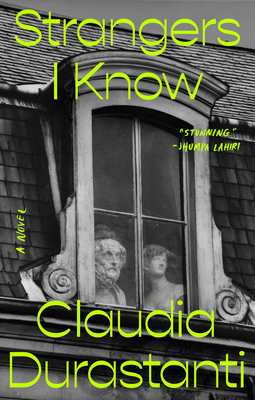 Writers Read: Claudia Durastanti Reads from Strangers I Know
Strangers I Know is the fourth novel by Claudia Durastanti and her first to be translated to English; the book is a bestseller in Italy and winner of the Premio Pozzale Luigi Russo and the Premio Strega Off. The largely autobiographical novel is a subversive story about family and coming of age; it crosses oceans, languages, and generations, bringing readers into small pastoral villages of Southern Italy as well as into smoky night clubs and the NYC punk rock scene. The novel's narrator finds herself living in a strange transnational atmosphere in which communication is nearly nonexistent. An outsider in every way, she longs for a freedom she isn't sure exists and attempts to create her own version of her life.
"Formally innovative and emotionally complex, this novel explores themes of communication, family, and belonging with exceptional insight. Durastanti, celebrated in Italy for her intelligent voice and her hybrid perspective, speaks to all who are outside and in-between. Strangers I Know, in a bracing translation by Elizabeth Harris, is a stunning English-language debut."
—Jhumpa Lahiri, author of Whereabouts
Discussion led by Joseph Salvatore, The New School.
Free, open to the public, and held in person at the
Calandra Institute.
RSVP by calling (212) 642-2094.
Registration is required for all events in order to follow current CUNY COVID guidelines. Proof of vaccination and ID are required upon entry. Masks are encouraged but not required. We will continue to assess the latest data and public health guidance and to act in compliance with CUNY protocols.