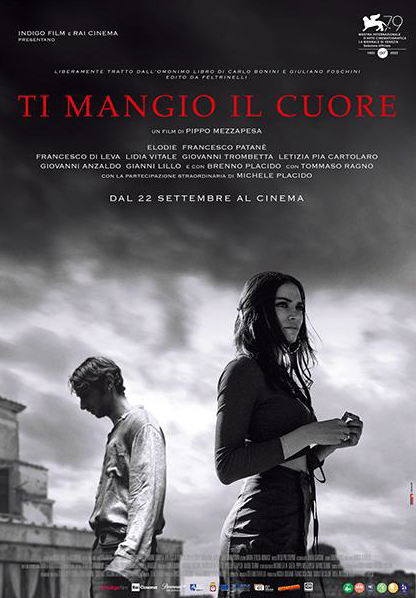 Viewing Puglia through Films: A New York Festival Ti mangio il cuore
Directed by Pippo Mezzapesa with: Elodie, Francesco Patane, Tommaso Ragno, Lidia Vitale, Michele Placido. Production: Indigo Film in collaboration with Rai Cinema and Paramount, Year: 2022.
Duration: 115 minutes.
Based on the investigative novel of the same name by Carlo Bonini and Giuliano Foschini, which was inspired by the true story of Rosa Di Fiore, first repentant of the Gargano Mafia. The Gargano promontory is home to two families belonging to the Apulian Mafia, the Malatesta and the Camporeale, who vie for control of the territory. The two families have had bloody disputes over the years, including the massacre of the Michele Malatesta's family in 1960, which deeply scarred the clan. More than forty years later, the two families seem to have established a
truce. During this period of apparent calm, Andrea, son favorite of Michele Malatesta and heir to the clan, falls in love with Marilena, wife of the boss Santo Camporeale, at the time a fugitive from justice. Marilena in turn falls in love with Andrea but, aware that she is married and of the rivalries between the two houses, only apparently dormant, decides to see him only clandestinely. In Italian.
Sponsored by the John D. Calandra Italian American Institute
This event will be held at John D. Calandra Italian American Institute
25 West 43rd Street, 17th floor, NYC
Admission: Open to the public
Fee: Free. Please call to RSVP.
Email: calandra@qc.cuny.edu.
Phone: (212)642-2094
Web Address: https://calandrainstitute.org/