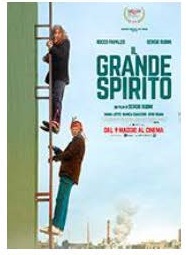 Viewing Puglia through Films A New York Festival: Il Grande Spirito
Directed by Sergio Rubini. With Rocco Papaleo, Sergio Rubini Production:Fandango and Rai Cinema. Year: 2019.
Duration: 113 minutes.
Tonino is a petty thief always looking for the big score, which seems to finally arrive when the loot from a robbery, for which he had been relegated to the role of lookout, fortuitously ends up in his hands. Tonino flees with the loot over the Taranto rooftops and finds refuge in a dilapidated dormer house inhabited by a strange character: Renato, who has given himself the nickname Black Deer because he considers himself an Indian, part of a tribe in perpetual struggle against the Yankees. Renato is the only anchor of salvation for the fugitive, who by the way is badly injured by falling from the top of a construction site overhead. An understanding will develop between the two that is the result not only of marginalization, but also of an unsuspected consonance of views. In Italian.
Sponsored by the John D. Calandra Italian American Institute
This event will be held at John D. Calandra Italian American Institute
25 West 43rd Street, 17th floor, NYC
Admission: Open to the public
Fee: Free. Please call to RSVP.
Email: calandra@qc.cuny.edu.
Phone: (212) 642-2094
Web Address: https://calandrainstitute.org/