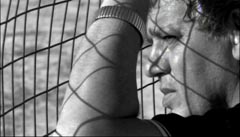 Totó (2009), 128 min. Peter Schreiner, dir.
Calabrian immigrant Antonio Cotroneo lives in Vienna with his Austrian wife and their four sons and works as an usher at the city's famed Konzerthaus. As a young man, he left his home in Tropea (Vibo Valentia province), where he is known as Totó, and now, at age fifty, he increasingly finds himself caught between two worlds. In this experimental documentary, director, cinematographer, and sound designer Peter Schreiner accompanies Totó on a journey to his hometown. Fragmentary scenes, beautifully detailed close-ups, and poetic contemplations evoke Totó's persistent feelings of displacement and yearning.
Post-screening discussion led by Frank Tomasulo, National University.