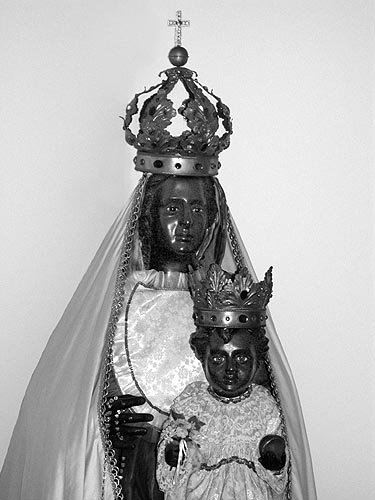 The Black Madonna of East 13th Street: Italian American Religious Devotion in the East Village
Il Covo dell'Est
210 Avenue A
(corner of East 13th Street)
Manhattan
On September 8, 1905, in Manhattan's Lower East Side, immigrants from Patti (Messina province), Sicily celebrated their first feast in honor of the Madonna del Tindari, one of numerous miraculously powerful black madonnas venerated throughout Italy.  The following year, they formed the mutual aid association "Il Comitato Pattese alla Vergine SS. del Tindari."
In 1913, the group established a chapel at 447 East 13th Street, between First Avenue and Avenue A, where a stucco statue of Madonna was on display.  I. J. Isola, writing for the W.P.A. in 1936, noted: "The New York Black Madonna is credited by believers, with possessing the miraculous curative powers of the original, as is attested by the many votive offerings at her shrine[,] . . . in semblance of cures received on different parts of the body, such as arms, legs, hands, breasts, etc."
The Sicilian American residents diminished as did the local devotion to the Black Madonna. In 1987, the lay religious society was dissolved and the statue was given to a New Jersey family who had attended the annual feast since the mid-1930s. The building which once housed the social club-cum-chapel is now a bar.
Please join us for cocktails at the restaurant Il Covo dell'Est to commemorate this history of Italian American life and religious devotion in the East Village.
Program:
Introduction by Dr. Joseph V. Scelsa, Italian American Museum
Opening song by singer Michela Musolino and guitarist Wilson Montuari
Greetings by the Hon. Antonio Bandini, Consul General of New York, and restaurateur Silvio Amori
Dr. Joseph Sciorra of the Calandra Insitute will present on the devotion to La Madonna del Tindari in Sicily and the United States.
Closing music by Michela Musolino and guitarist Wilson Montuari
The exhibition "Evviva la Madonna Nera!: The Italian American Devotion to the Black Madonna," was designed by visual artist B. Amore.
Please call (212) 642-2048 to make reservations.