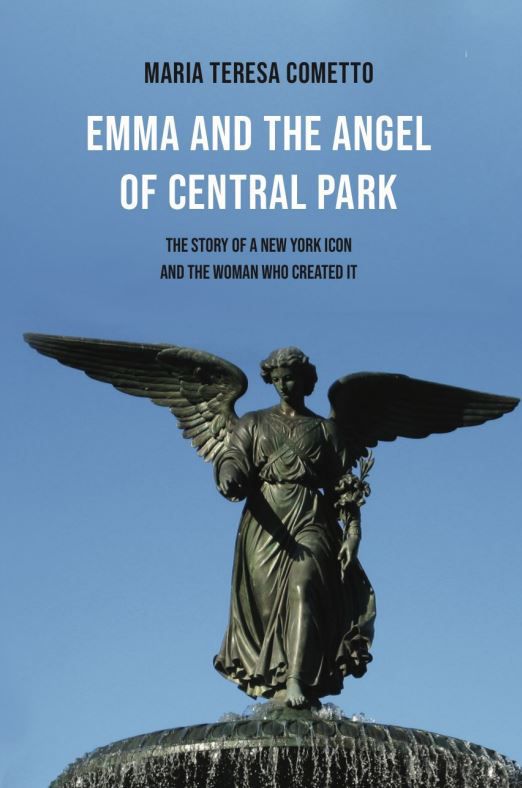 The Angel of Central Park: A "Made in Italy" New York Icon
Celebration of the 150th anniversary of the inauguration of the Angel of the Waters and launch of the English edition of Emma and the Angel of Central Park: The Story of a New York Icon and the Woman Who Created it (published by Bordighera Press).
Nota bene: This event will take place

May 31, 2023 6pm
at
the Italian Cultural Institute
686 Park Avenue, NY
RSVP iicny.rsvp@gmail.com, indicating: "Emma and the Angel"
Welcome remarks: Prof. Fabio Finotti, IIC-NY Director
Author Maria Teresa Cometto in conversation with:
Anthony J. Tamburri, Dean of John D. Calandra Italian American Institute Queens College, CUNY, Moderator
John Steele Gordon, writer and descendant of Emma Stebbins
Matt Reiley, Associate Director of Conservation for the Central Park Conservancy
Julia Markus, author of Across An Untried Sea: Discovering Women's Lives Hidden in The Shadow of Convention and Time
Lisa Ackerman, Visiting Assistant Professor, Pratt Graduate Center for Planning and the Environment
Emma and the Angel of Central Park is a wonderfully absorbing biography about the creator of one of New York's most admired and iconic sculptures. Expansive in breadth and meticulous in detail, this book places Emma Stebbins amidst a broad panorama of New York and Rome, and insightfully recounts how she navigated nineteenth-century cultural, artistic, and gender mores.
–Thayer Tolles, The Metropolitan Museum of Art
The iconic Bethesda Fountain with the Angel of the Waters was inaugurated on May 31st 1873. Maria Teresa Cometto's book is the first biography ever of the sculptor who created it: Emma Stebbins, the first woman to receive a public art commission in New York City. Emma was part of a group of American women sculptors who lived in Rome in the 19th century — a group Henry James dubbed "the white marmorean flock." It is in Rome that Emma created the statue that was meant to celebrate the clean pure waters in New York City. Born in Manhattan, Emma was "married" to the actress Charlotte Cushman. Women. Gays. Immigrants. A bridge between the U.S. and Italy. Environmental consciousness. Each of these is an integral part of the Angel of Central Park.
Maria Teresa Cometto has been living in New York since 2000. In addition to working for almost 30 years as a journalist for the leading Italian daily Corriere della Sera, she has also written several books.