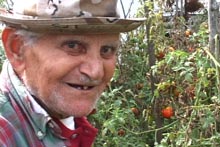 Terra Sogna Terra (2011), 50 min. Lucia Grillo, dir.
The fruit and vegetable gardens behind suburban houses in the New York City metropolitan area offer tantalizing entries into Italian-American horticultural knowledge and skills. The Calandra Institute's Lucia Grillo documents the joys of tilling the earth and harvesting the seasonal bounty with her intimate portraits of immigrant and American-born domestic gardeners. The 95-year-old Francesco Antonio, a Calabrian immigrant who speaks of his cultivated plot as a site of memory culture and transformative powers, and 21-year-old Gabrielle Pati, a graduate student who lovingly tends to her prized fig tree in ways learned from her Campanian parents, are some of the people featured in this film. The links between a traditional love of the land and contemporary environmental concerns are astutely interwoven. Ultimately, this documentary asks whether a garden can be a form of justice.
Post-screening discussion with the director led by Joseph Inguanti, Southern Connecticut State University.