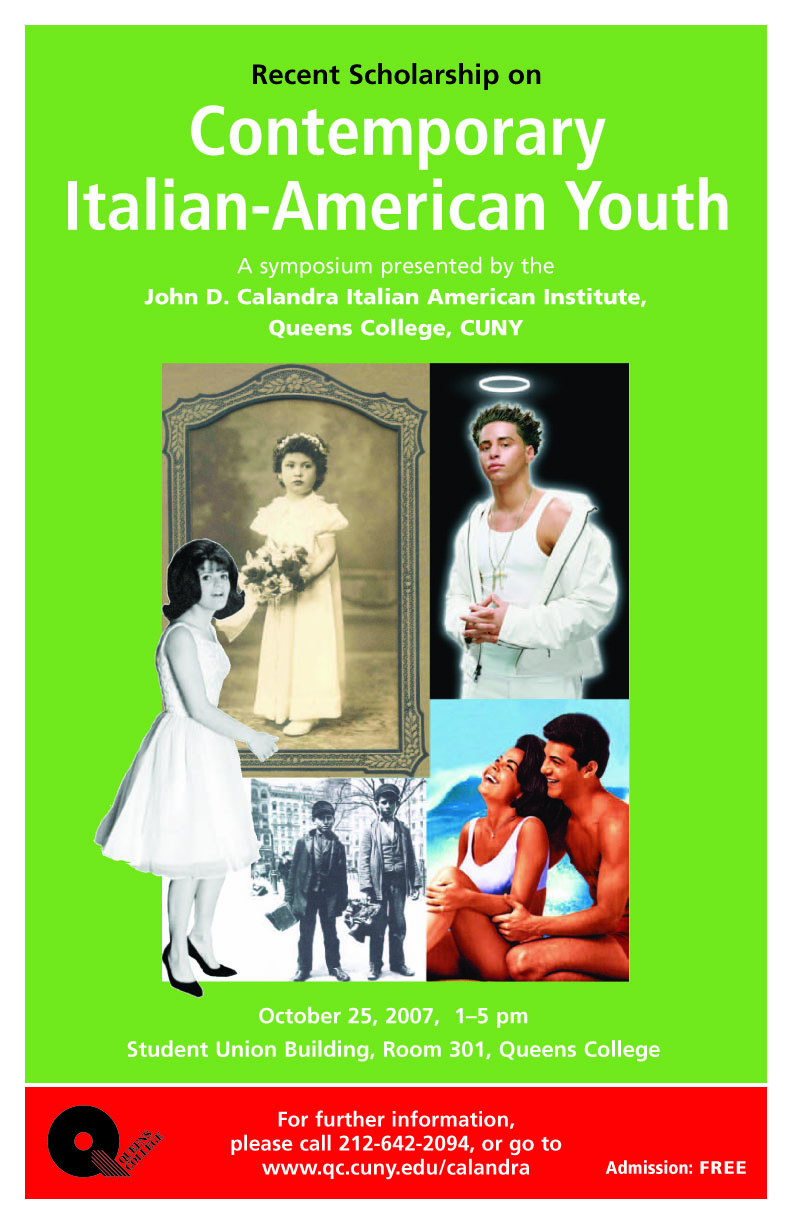 Recent Scholarship on Contemporary Italian-American Youth
A symposium presented by the John D. Calandra Italian American Institute.
October 25, 2007
1-5PM
Student Union Building, Room 301
Queens College
Admission: Free
"Italian-American youth" constitutes a category that has been ascribed with symbolic, iconic, and even mythic attributes. Historic cinematic depictions of Italian-American teenagers were broadly painted caricatures of the male juvenile delinquent and his sexually active female counterpart, while current television images have, to some degree, been mollified. For the news media, "Italian-American youth" is all too often a pathological problem that is susceptible to the allure of organized crime and featured in front-page articles and on evening broadcasts about racial violence and criminal activities. For many ethnic-based organizations, "Italian-American youth" is a target audience for interventionist services of social and cultural uplift, from Italian language classes to "heritage" initiatives to travel programs to Italy.
Second-generation Italian-American youth in the first half of the twentieth century has been the subject of scholarly research by historians and other social scientists who have explored topics such as the often contentious relationship with immigrant parents.  Sociologist William Foote Whyte's urban ethnography Street Corner Society (1943) remains an influential treatise on Italian-American youth at mid-century.
What of Italian American youth today? This symposium brings together six scholars from diverse disciplines who are investigating various aspects of contemporary Italian-American youth. They look at the ways in which Italian-American adolescents and young adults negotiate the social and cultural landscapes that involve educational achievement, employment opportunities, and patterns of stress, as well as mass media, popular music, consumption, and cultural style.
Click here to view the program poster.
Conference Program
Greetings 1:00 PM
President James L. Muyskens (Queens College, CUNY)
Dean Anthony Julian Tamburri (John D. Calandra Italian American Institute, Queens College, CUNY)
Session I
Educational Challenges and Achievements
Chair: Dr. Joseph Sciorra (John D. Calandra Italian American Institute)
Transcendent Imagination and the Struggle for Educational Attainment Among Italian-American Women
Dr. Donna Chirco (York College, CUNY)
Italian-American Educational Achievements in the Twenty-First Century and the Impact of Negative Stereotypes
Dr. Vincenzo Milione (John D. Calandra Italian American Institute)
Stress Patterns in Adolescents: A Multicultural Perspective
Pierre Tribaudi (John D. Calandra Italian American Institute)
Discussant: Dr. Dawn Esposito (St. John's University)
Session II
Identity and Culture
Chair: Dr. Peter Vellon (Queens College)
Italian-American Identity Today (But Will There Be a Tomorrow?): The Fragility of Ethnic Identity in the Twenty-First Century
Dr. John Mitrano (Central Connecticut State University)
Youth Culture, Ethnic Choices, and the Identity Politics of Guido
Dr. Donald Tricarico (Queensborough Community College, CUNY)
The Ethnoscape of Hip Wop: Translocal Migrations of Italian-American Hip Hop
Dr. Joseph Sciorra (John D. Calandra Italian American Institute)
Discussant: Dr. Peter Carravetta (Queens College)