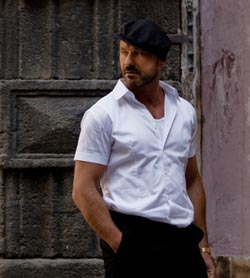 Passione (2010), 95 min. John Turturro, dir.
In Passione, actor-director John Turturro traverses the city of Naples and its music. Rather than present a straightforward documentary, Turturro offers an impressionistic account anchored by music video-style performances by diverse artists including Avion Travel, Peppe Barra, Fiorello, Misia, Pietra Montecorvino, Raiz, Massimo Ranieri, Lina Sastri, James Senese, and M'Barka Ben Taleb. From the thirteenth-century washerwoman's song "Canto delle lavandaie del Vomero," to "Napul'è" by contemporary artist Pino Daniele, the film's twenty-three songs tell of love, jealousy, war, and protest while evoking the cultural influences of the various groups that have passed through the city—Greeks, Arabs, Normans, Spanish, and Americans.
Post-screening discussion with the director led by Joseph Sciorra, Calandra Institute.