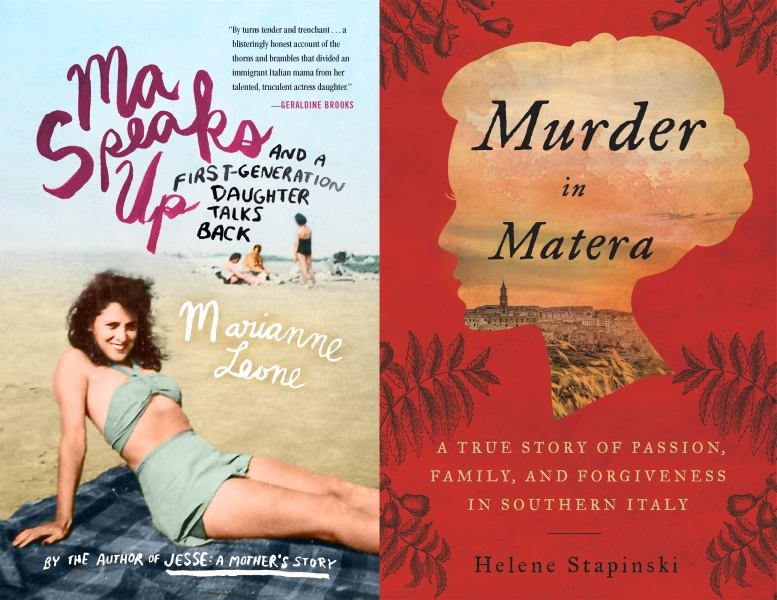 Marianne Leone reads from Ma Speaks Up: And a First Generation Daughter Talks Back
Helene Stapinski reads from Murder in Matera: A True Story of Passion, Family, and Forgiveness in Southern Italy
This evening presents two books that explore the experiences of two indomitable immigrant women, as seen through the eyes of their younger female relatives. Marianne Leone's mother moved to the United States under tragic circumstances, and when she was suddenly widowed with three young children, she had few options. Ma Speaks Up (Beacon Press, 2017) is the daughter's record of growing up feeling she was on the wrong side of the tracks, with the wrong family, in the wrong religion. Although Marianne endured shame during her childhood, she now appreciates also the love, great cooking, and humor that she experienced. Since the age of four, Helene Stapinski heard lurid yet exciting tales about her great-great-grandmother, a strong and unconventional woman who, after committing murder, fled Southern Italy with her three children for the United States in 1892. Murder in Matera (Dey Street Books, 2017) chronicles Stapinski's efforts to excavate the facts around this family mystery. Deeply researched and reported, the book details the author's increased understanding of and respect for her spirited ancestor's particular struggle.
Discussion led by Edvige Giunta, New Jersey City University.