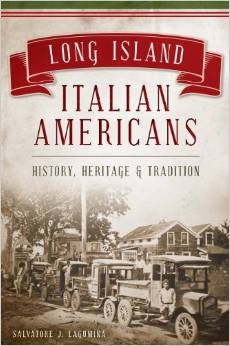 Long Island Italian Americans: History, Heritage and Tradition, by Salvatore LaGumina
For Italian immigrants and their descendants, moving from "the city" to Long Island was more than a change of address. It signaled that the family had achieved the American dream, and in turn, elements of Italian values and culture are visible all over the island.
Italians helped to build Long Island, whether as laborers or contractors. They brought their culinary traditions and opened markets and restaurants. Italian industrialization helped them thrive in fields as diverse as medicine politics, acting, winemaking and importing various products.
Join author Dr. Salvatore J. LaGumina as he offers a specially prepared power point presentation on the remarkable contributions and vibrant culture of Long Island Italian Americans.
Book signing will follow.
Dr. Salvatore J. LaGumina, emeritus professor and director of the Center for Italian American Studies at Nassau Community College, is a recognized authority on Italian American history; he has written twenty books, dozens of published articles and an on-line Milestones timeline on the subject. An awarded educator and well-recognized scholar, he has also served as guest lecturer and visiting professor at Wesleyan and Adelphi Universities and is the former president of the American Italian Historical Association (AIHA).