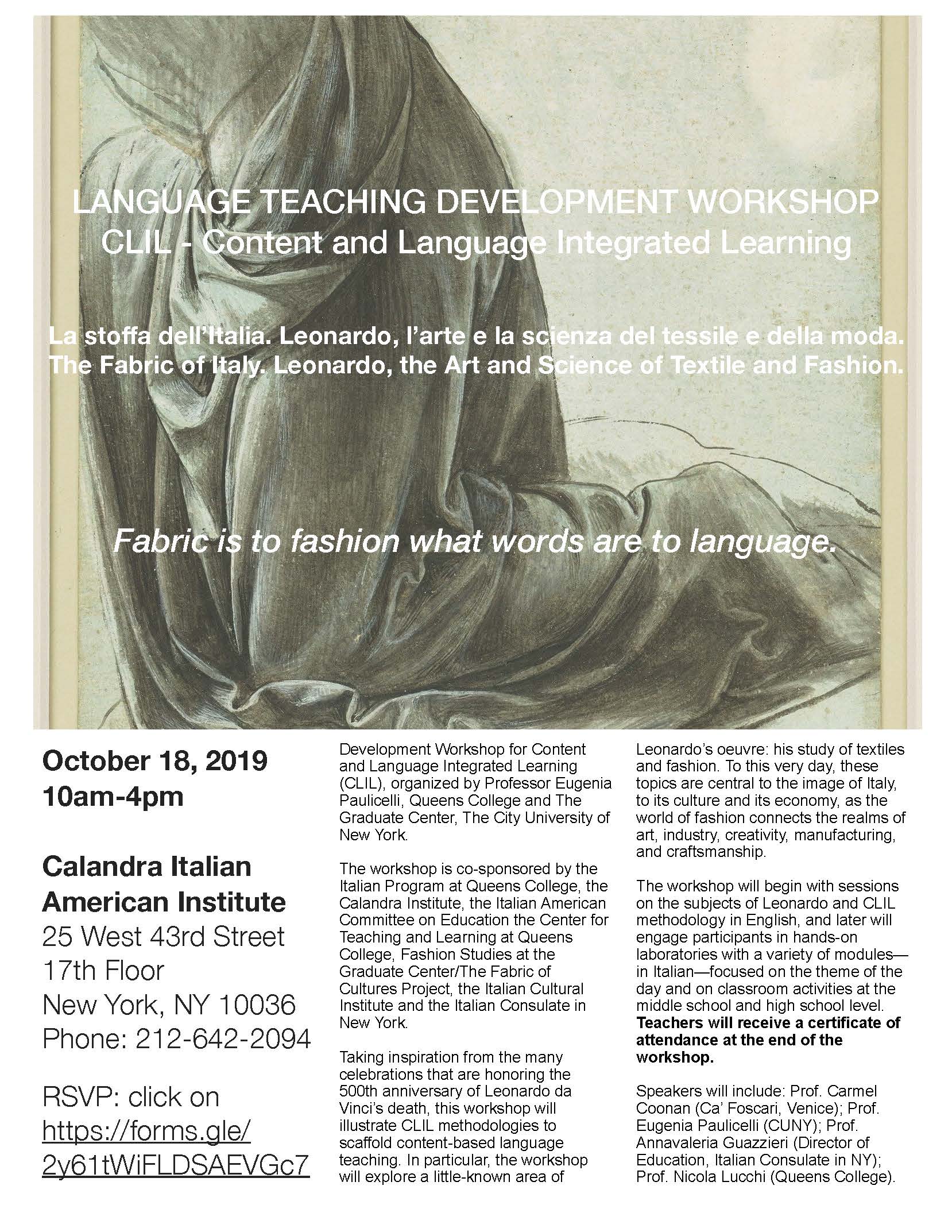 Language Teaching Development Workshop
Language Teaching Development Workshop: CLIL, Content and Language Integrated Learning
La stoffa dell'Italia: Leonardo, l'arte, e la scienza del tessile e della moda.
The Fabric of Italy: Leonardo, Art, and the Science of Textile and Fashion.
"Fabric is to fashion what words are to language."
Development Workshop for Content and Language Integrated Learning (CLIL), organized by Professor Eugenia Paulicelli, Queens College and The Graduate Center, The City University of New York.
The workshop is co-sponsored by the Italian Program at Queens College, the Calandra Institute, the Italian American Committee on Education the Center for Teaching and Learning at Queens College, Fashion Studies at the Graduate Center/The Fabric of Cultures Project, the Italian Cultural Institute and the Italian Consulate in New York. Taking inspiration from the many celebrations that are honoring the 500th anniversary of Leonardo da Vinci's death, this workshop will illustrate CLIL methodologies to scaffold content-based language teaching. In particular, the workshop will explore a little-known area of Leonardo's oeuvre: his study of textiles and fashion. To this very day, these topics are central to the image of Italy, to its culture and its economy, as the world of fashion connects the realms of art, industry, creativity, manufacturing, and craftsmanship. The workshop will begin with sessions on the subjects of Leonardo and CLIL methodology in English, and later will engage participants in hands-on laboratories with a variety of modules— in Italian—focused on the theme of the day and on classroom activities at the middle school and high school level. Teachers will receive a certificate of attendance at the end of the workshop.
Speakers will include: Prof. Carmel Coonan (Ca' Foscari, Venice); Prof. Eugenia Paulicelli (CUNY); Prof. Annavaleria Guazzieri (Director of Education, Italian Consulate in NY); Prof. Nicola Lucchi (Queens College).
To RSVP: Go to https://forms.gle/2y61tWiFLDSAEVGc7
This event is cosponsored by the John D. Calandra Italian American Institute and the Società Dante Alighieri, New York.