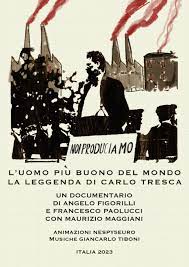 Film Screening at Casa Italiana
L'uomo più buono del mondo: La leggenda di Carlo Tresca (2023), 38 min.
Angelo Figorilli & Francesco Paolucci, dirs.
With Maurizio Maggiani. In Italian with English subtitles.
United States, early twentieth century. Carlo Tresca is an Italian immigrant who starts organizing major labor strikes, publishes newspaper articles in which he denounces the brutal exploitation of workers by bosses and mafiosi, wins and loses dozens of trials to defend the freedom of his ideas as well as the workers who immigrated to America from all over the world. For almost forty years the FBI considered him one of the nation's most dangerous subversives.
Tresca comes from Sulmona, Abruzzo; he's a trade unionist, a journalist, socialist, revolutionary, anarchist, anti-Fascist, and an anti-Stalinist—an inconvenient figure to everyone. He may want to go back to Italy to participate in the liberation of his country, but a gunshot to his back kills him one winter evening in New York. It's January 11, 1943. His funeral in New York is celebrated by a procession of eighty cars loaded with flowers and is attended by thousands of people. Laborers, textile workers, intellectuals, artists, writers, all mourn the man who was called "the kindest man in the world." Then silence descends upon him.
Eighty years after his death, this documentary offers a heartfelt portrait of an internationalist and Italian rebel, a Don Quixote of the last century. It does so through the words of writer Maurizio Maggiani, who converses remotely with those who, in Tresca's hometown, have struggled to piece together and then illuminate the memory of a man "who fought against all despotism," and "who ran to where it was necessary," "who was able to talk to everyone, friends, enemies, poor people, intellectuals," and "who did not shrink from anything," "a hero who, like all heroes, met a tragic end."
The impassioned conversation is marked by the animated re-enactment—through the imaginative work of Erick Cuevas Ulloa and the music of Giancarlo Tiboni—of episodes that marked Tresca's life: his political upbringing among the railway workers in his native Abruzzo, his escape to New York, the historic strike of Paterson's textile workers (which turns eventually into a memorable show at Madison Square Garden), and finally his assassination on Fifth Avenue.
Rather than questioning the mystery of Tresca's death—which was not a real mystery after all—the documentary intends to be an invitation to explore, especially today, the example of the life of a man for whom love for freedom and for the struggle against all exploitation was the reason for his existence.
NOTA BENE: This event will take place at Casa Italiana Zerilli-Marimò.
24 West 12th Street
New York, NY 10011-8604
Telephone: (212) 998-8739
Fax: (212) 995-4012
Screening will be followed by a Q&A with director Angelo Figorilli in conversation with Stephen J. Cerulli, Fordham University; Alexander Stille, author; Dorothy Gallagher, author. Moderated by Claudio Gatti, journalist.
RSVP here.
Members Seat Reservation here.
Watch the trailer here.