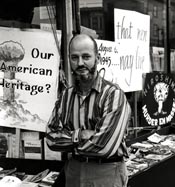 Ferlinghetti (2009), 82 min. Christopher Felver, dir.
The bestselling poet in modern literature, Lawrence Ferlinghetti has also been a catalyst for numerous literary careers and an influential counterculture figure. In 1953, he founded San Francisco's City Lights Booksellers with Peter Martin and, two years later, launched the store's publishing wing. A First Amendment activist, Ferlinghetti's infamous censorship trial for his publication of Allen Ginsberg's Howl in 1956 launched the social rebellion of the Beats into national consciousness. In this documentary, director Christopher Felver's extensive interviews with Ferlinghetti, together with archival photographs, historical footage, and appearances by Billy Collins, Allen Ginsberg, Dennis Hopper, and many others, explore Ferlinghetti's work as a writer, artist, publisher, and civil libertarian.
Post-screening discussion with the director led by Anthony Tamburri, Calandra Institute.