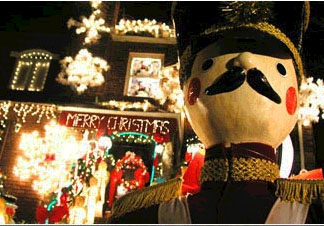 Dyker Lights (2001), 28 min., Paul Reitano and Terrence Sacchi, dir.
The Kings of Christmas (2005), 11 min., David Katz, dir.
Christmas season in New York City's outer boroughs is a time when homeowners transform the mundane into a nocturnal tapestry of festive landscape by decorating their house exteriors and front yards.  Holiday hyperfication involves thousands of twinkling multi?colored lights, dioramas of motorized figures, and the sound of recorded music playing from outdoor speakers.  These seasonal tourist sites draw thousands of city residents and out?of?state travelers who swarm the sidewalks and clogging the residential streets of Brooklyn, Queens, and Staten Island as December 25th approaches.  These two videos feature the men, the vast majority of whom are Italian-American, who create these urban fantasyscapes.