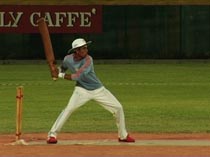 Cricket Cup (2006), 49 min. Diego Liguori and Massimiliano Pacifico, dirs.
In the late 1970s, Sri Lankan immigrants began coming to Naples, often to find employment as domestic workers. The community is now large and well-established, with an estimated 7,000 members who have founded Buddhist temples, Sinhalese-language schools, airport shuttle lines, grocery stores, and passport services. In a country where the game of cricket is virtually unknown, these immigrants have organized local teams and national tournaments, complete with trophies and cash prizes. They practice in empty piazze at night and hold matches in parks on their Sundays off. In Cricket Cup, immigrant Sagara Wickramanayake and his teammates leave Naples at 4 a.m. to participate in a tournament in Florence, trying if only for one day to attain glory and affirmation. Sagara's story is interspersed with those of fellow immigrants, who recount their experiences and share their aspirations.
Post-screening discussion with the directors led by Joseph Sciorra, Calandra Institute.