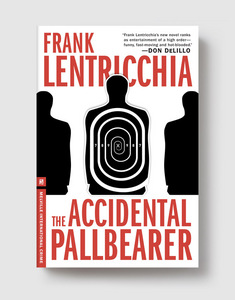 Book presentation of THE ACCIDENTAL PALLBEARER by Frank Lentricchia
Washed-up private investigator Eliot Conte would rather be teaching American literature and listening to opera than taking pictures of spouses in flagrante delicto. But he flamed out of an academic career when he hung the Provost of UCLA out a window, and he had to come home to bleak Utica, New York, where his aging father, Silvio Conte, a political kingmaker, is still cutting deals and hustling appointments, and his all-but-in-blood brother Antonio Robinson is the city's first black Chief of Police.
But now Antonio's asking him for a favor that, to Eliot, doesn't seem like the kind of thing a police chief should ask for … especially as he begins to uncover a trail of evidence leading back to the most sensational hit in Mafia history. In a Utica marked by economic devastation and racial tensions, Eliot picks up one strand after another, weaving his way through a web of allegiances, grudges, and his own dark demons. Who is the spider at the center of it all?
"Frank Lentricchia's new novel ranks as entertainment of a high order – funny, fast-moving and hot-blooded. It's also the kind of novel that will appeal to readers who like their fiction to carry depth and range." –Don DeLillo