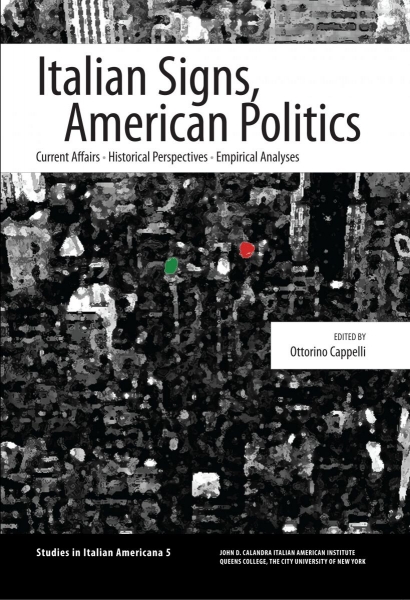 Book Presentation: Italian Signs, American Politics, edited by Ottorino Cappelli
Italian Signs, American Politics: Current Affairs, Historical Perspectives, Empirical Analyses. Ottorino Cappelli, editor.
This book analyses intra-ethnic elections in the United States, in the circumstance of American politicians of Italian descent who ran against each other in the State of New York. The first part examines the 2010 gubernatorial campaign between Andrew M. Cuomo and Carl P. Paladino, the highest-level intra-Italian electoral contest in contemporary times. The second part addresses the Congressional races between James Lanzetta and Vito Marcantonio in East Harlem in the 1930s, and the 1950 New York City mayoral elections, where the three major candidates: Vincent Impellitteri, Ferdinand Pecora, and Edward Corsi were all Italian-born. The third part investigates the relationship between social demographics and the success of Italian American politicians in hegemonic districts where intra-Italian elections occur frequently.
Participants include: Ottorino Cappelli, State Senators Joseph Addabbo and Tony Avella. Moderator: Anthony Julian Tamburri. Sponsored by the Italian Club of Queens College and the John D. Calandra Italian American Institute, Queens College/CUNY.
Admission: free; open to the public; Contact: John D. Calandra Italian American Institute; 212-642-2094; calandra@qc.edu
This event takes place at Queens College, Kiely 270, 12:15 pm.