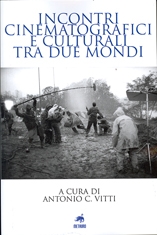 Book Presentation: Incontri cinematografici e culturali tra due mondi edited by Antonio Carlo Vitti
The book's title recalls a distance and, at the same time, the desire and power to overcome it. There was a time in the early twentieth century when our immigrants travelled between "two worlds," in search of a better life. What Italy produces in the general realm of art and philosophy, film perhaps attracts greater attention, not only because of a high artistic level of Italy's directors and actors, but also because film often figures as an eloquent and more direct mirror of a society, its customs, and its challenges. As such, it exerts a strong power of attraction for the viewer and is easy for those who want to know more in depth. The essays gathered in this volume represent a stunning panorama of Italian cinema from Neorealism to the latest productions, a sort of manual in the round with a depth of analysis and completeness.
The editor, Antonio Carlo Vitti, will be present, in conversation with Anthony Julian Tamburri, Dean, Calandra Institute.