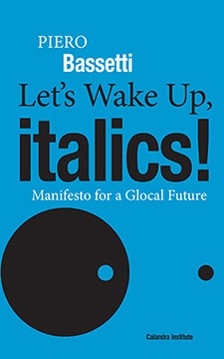 Book Launch: Wake Up, Italics! June 7
Francesco Genuardi, Consul General of Italy in New York and Piero Bassetti, President of Globus et Locus
cordially invite you to attend the book launch for Let's Wake Up, Italics! Manifesto for a Glocal Future,
by Piero Bassetti.
June 7, 2017, at 5:30 PM
Consolato Generale d'Italia a New York
690 Park Avenue, New York, NY
Discussants: Jhumpa Lahiri, Charles Adams, Fred Gardaphé, and Anthony Tamburri.
Refreshments will follow.
RSVP 212-642-2094.