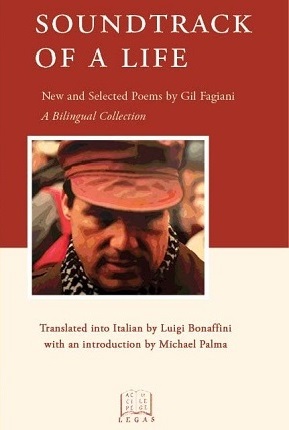 Book Launch: Soundtrack of a Life: New and Selected Poems by Gil Fagiani
Gil Fagiani (1945–2018), an Italian American with roots in Sicily and Abruzzo, was a poet, an independent scholar, a political activist, a social worker, and a lover of the Italian language. His bilingual collection Soundtrack of a Life: New and Selected Poems was published posthumously by Legas Books on February 15, 2023.
Fagiani was about to be hospitalized when he made the selections from his eight books of poetry for this collection. The poems have since been lovingly translated into Italian and introduced and shepherded by his colleagues and fellow poets: Distinguished Professor Luigi Bonaffini; Michael Palma; and Fagiani's wife, journalist Maria Lisella.
In 1987 Fagiani made his first trip to Sicily with Maria Lisella as part of the couple's honeymoon. In the years that followed, the couple would return to Capo d'Orlando and to Naso often, meeting with relatives on both sides of Fagiani's family. Fagiani began studying the Lancianese dialect and Italian at Brooklyn College under the guidance of Professor Luigi Bonaffini, who became both mentor and devoted friend.
Each of Fagiani's eight books is organized around a period in his life: Grandpa's Wine, Chianti in Connecticut, Stone Walls, and Missing Madonnas all deal with his Italian American family and growing up in Stamford, Connecticut. Rooks describes his freshman year (1963–1964) at Pennsylvania Military College. A Blanquito in El Barrio recounts his life in Spanish Harlem in the 1960s, a period of political activism and also drug addiction. Logos explores his time (1969–1971) in a therapeutic community in the South Bronx. Serfs of Psychiatry draws upon his twelve years on staff at Bronx Psychiatric Hospital.
Fagiani began attending IAWA literary readings in the mid-1990s and later co-curated the monthly readings with Maria Lisella. The series included bilingual readings in various dialects as well as the Sagra del Libro. For the past five years, the series has extended to Boston.
This event is co-sponsored by IAWA, the Italian American Writers Association. RSVP by calling (212) 642-2094.