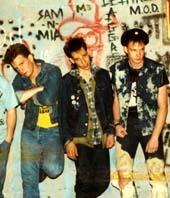 Average Community (2010), 86 min. Fred Zara, dir.
Growing up in Trenton, New Jersey, in the mid-1980s, filmmaker Fred Zara went by the name Fred Fatal, played drums in a punk-rock band called Prisoners of War, and managed to get kicked out of high school before reaching the 10th grade. While visiting his hometown on the occasion of the Trenton Film Festival, he decides to confront his troubled past and the troubled people in it. He is joined by his two older brothers and former band mates, one a disheartened New York journalist, the other a free-spirited Seattle musician, as he reunites with old friends from Trenton's punk scene, revisits painful memories, and tries to make sense of what it meant to grow up in a dying city.
Post-screening discussion with writer/producer Christopher Zara led by Rosangela Briscese, Calandra Institute.
Screened in conjunction with the Calandra Institute's symposium "Hybrid Moments: Independent Music in Italian America," Friday, November 5, 2010.