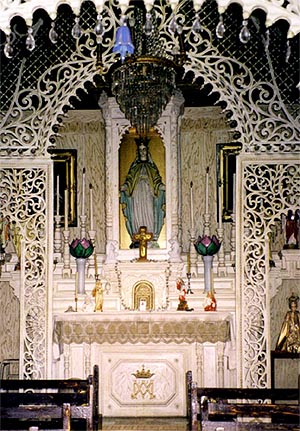 A Ceremony Celebrating the Listing of the Lisanti Family Chapel on the New York State and National Registers of Historic Places
Constructed in 1905 by immigrant baker and peddler Francesco Lisanti, this private Roman Catholic chapel was once the spiritual center for the Lisanti family and the neighborhood's once large Italian community.  Weekly mass and sacramental rites of passage, including baptisms, weddings, and wakes, were celebrated here.
The chapel, with its rough-hewn granite exterior and open bell tower topped by a metal filigree cross, is a rare example of Italian American vernacular religious architecture in the United States.  The interior is a testimony to immigrant artisan skills and decorative work, seen in the wood lattice altar screen, the altar's tiled floor, the faux marble, and the original paintings of religious scenes.  Closed since the 1970s, the chapel will be open to the public for this event.
Please join:
Commissioner Bernadette Castro of the New York State Office of Parks, Recreation and Historical Preservation
Judge Joseph Giamboi, John D. Calandra Italian American Institute, Queens College
Monsignor David L. Cassato, St. Athanasius Roman Catholic Church
Dr. Joseph Sciorra, John D. Calandra Italian American Institute, Queens College
Chapel owners Joann and Robert Pisacane
Directions from Manhattan:
By subway: take the 5 train (Wakefield/241st Street) to Gun Hill Road, exit to right of token booth, walk to 215th Street, turn right.
By car: Henry Hudson Parkway (North-East), Exit 24, bear right onto Mosholu Parkway, bear left onto Gun Hill Road; turn left onto White Plains Road; turn right onto E 215th Street.
EXTRA!: Click here for the article in the New York Folklore Society.