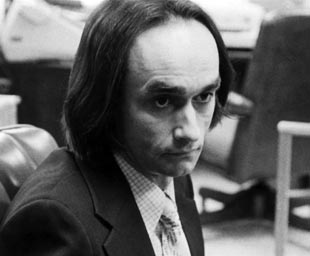 19 Arrests, No Convictions (2007), 29 min. Judy Irving, dir.
I Knew It Was You: Rediscovering John Cazale (2009), 39 min. Richard Shepard, dir.
These two films portray extraordinary Italian-American personalities and their remarkable contributions. 19 Arrests, No Convictions is a documentary portrait of George Farnsworth, an Italian-American bar owner with a fishy nightlife who redeems himself as a San Francisco Bay open-water swimmer. Farnsworth died in 1996, but retains his record as the oldest man to participate in the annual "New Year's Day Swim from Alcatraz." Director Judy Irving filmed George over the course of eight years.
Between 1972 and 1978, actor John Cazale appeared in The Godfather, The Godfather II, The Conversation, Dog Day Afternoon, and The Deer Hunter. Although Cazale was never nominated for an Academy Award, his peers maintain his acting brought out the best in their performances. In I Knew It Was You, director Richard Shepard brings deserving attention to the life and career of Cazale, who died from lung cancer in 1978 at age forty-two. Along with clips from his films and rarely seen photos and home video, the documentary features candid interviews with Robert De Niro, Gene Hackman, Al Pacino, Meryl Streep, and many others.