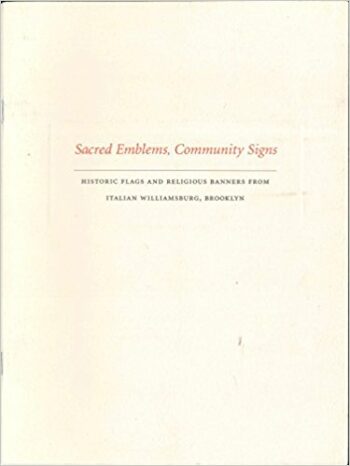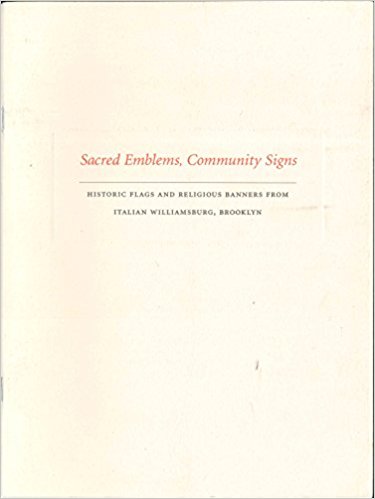 February 6 – March 14, 2003: Sacred Emblems, Community Signs: Historic Flags and Religious Banners from Italian Williamsburg
This exhibition features historic flags and religious banners from the Italian American community of Williamsburg, Brooklyn, artistically and historically significant objects that illustrate the history of Italian American aesthetic and religious practices spanning well over a century.
Curated by Dr. Joseph Sciorra of the Calandra Institute, this exhibition is unique in that there has never been a formal exhibition of Italian American religious banners in this country. While banners were omnipresent during religious processions and street feste throughout the United States during the late nineteenth century and twentieth century, there exists no literature written about their craftsmanship or use. Even in Italy, scant scholarly attention has been paid to the topic.
We know very little about the Italian American craftspeople that made these commissioned standards. Domenick Abbate, J. Adorno, Alexander D'Angelo Frank De Caro, M. Di Leva, and C. Lombardi were some of the major producers of flags, banners, and uniforms for New York's Italian American community during the late nineteenth century, and first half of the twentieth century. Many of the banners to be exhibited date from the first half of the twentieth century.
We do know about the community of Italian American Catholics who introduced these devotions to New York. The banners represent historic and contemporary devotions to Our Lady of Mt. Carmel, Our Lady of the Snows, Our Lady of Mercy, St. Paulinus, St. Cono, and St. Sabino. Many of these sacred personages are the spiritual patronages of Italian towns such as Fontanarosa, Nola, Sanza, and Teggiano. Voluntary associations, many which still exist, historically commissioned the banners and organized the processions to honor the respective saints and aspects of the Madonna.
This exhibition demonstrates how the banners function as "key symbols," to use anthropologist Sherry Ortner's term, of identity, publicly proclaiming religious conviction, Italian regional affiliation, and claims to historic connection to an urban community as they are paraded through the streets in annual processions through Williamsburg, Brooklyn.
Click here for exhibition catalogue, part I.
Click here for exhibition catalogue, part II.
Click here for exhibition catalogue, part III.
Click here for exhibition catalogue, part IV.