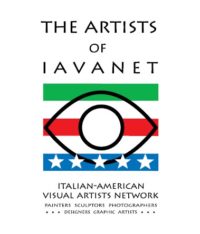 April 12 – June 10, 2011: The Artists of IAVANET – An Exhibition by the Italian-American Visual Artists' Network
The Calandra Institute exhibition showcases emerging and established artists of the Italian-American Visual Artists' Network (IAVANET). Founded in 2007, IAVANET's mission is to promote and make visible the work of Italian-American visual artists.
The work in this exhibition, including paintings, sculptures, photography, and graphic art, encompasses a full range of expression from abstraction to representation. Some artists make explicit references to Italian and Italian-American themes, from family life to religiosity to pop culture.
On Monday, May 9, IAVANET founding member Richard Laurenzi will lead a roundtable discussion with artists Nancy Azara, Karen Guancione, John Milisenda, and Antonio Petracca.
The exhibition, which runs from April 12 to June 10, features work by Nancy Azara, Tommaso Cuccia, Erick De Martino, Claudia De Monte, Robert Franca, Karen Guancione, Lou Lalli, Richard Laurenzi, John Milisenda, Rita Passeri, Antonio Petracca, John Saponara, Joe Sorge, Donald Vaccino, Peter Vaccino, Angela Valeria, and Joe Zarba.
Click here for full exhibition catalogue.