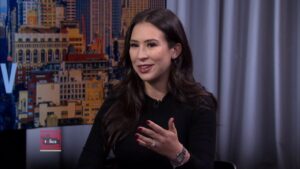 Our latest episode of Italics is up now. Click here to watch.
In the studio with us this month are Dr. Stefano Albertini, clinical professor of Italian in New York University's Department of Italian and director of its Casa Italiana, and Rossella Rago, host of the popular web TV series "Cooking with Nonna." We will discuss today the notion of what constitutes "Real" and Non-"Real" Italians, a discussion that is long overdue, some might say.
Italics is hosted by Anthony Julian Tamburri, Dean of the John D. Calandra Italian American Institute of Queens College/CUNY and Distinguished Professor of European Languages and Literatures.
Italics is now in its third decade serving the Italian-American community and those interested in Italian-American history and culture. Italics is co-produced in collaboration with the John D. Calandra Italian American Institute.
Watch more at http://tv.cuny.edu/show/italics
Subscribe to the Series Playlist: https://bit.ly/2VfN4uF
Subscribe to the CUNY TV channel: https://bit.ly/2GmGb13
Follow CUNY TV:
Facebook: https://www.facebook.com/CUNYTV
Twitter: https://twitter.com/cunytv
Instagram:https://www.instagram.com/cuny_tv/
YouTube:https://www.youtube.com/user/cunytv75
LinkedIn:https://www.linkedin.com/company/cunytv/
Find more from CUNY TV at https://tv.cuny.edu