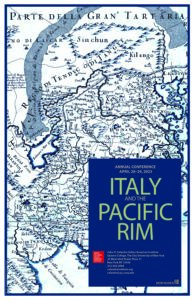 What happens to our understanding of modern Italy in the world when we shift our focus away from Atlantic Ocean and Mediterranean locales to consider the historical and contemporary connections between Italy and the Pacific Rim as part of transnational and transcultural interactions?
This interdisciplinary conference is open to a wide range of topics concerning connections between Italy and the Pacific. As in the past, the 2023 Calandra Institute conference proposes a transnational and inclusive approach to Italy and Italian mobilities, including inhabitants of the nation-state, members of the diaspora, current immigrants in Italy and their descendants, and former colonial subjects.
This is an in-person event without virtual presentations.
The conference is free and open to the public. For more information, please call 212-642-2094. Click here for complete program.