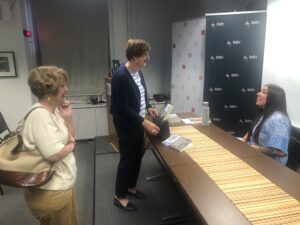 Alyssa J. Maldonado-Estrada, of Kalamazoo College, presented her book Lifeblood of the Parish (NYU Press, 2020) on June 6 as part of the Philip V. Cannistraro Seminar Series in Italian American Studies, bringing to a close the Spring regularly scheduled events at the Calandra Institute. Please check our Calendar as we begin to update it with Fall events.
More about Lifeblood of the Parish:
Every Saturday, a group of men can be found in the basement of the Shrine Church of Our Lady of Mount Carmel in Williamsburg, Brooklyn, busily measuring, hammering, and painting. Each year the parish hosts the Feast of Our Lady of Mount Carmel and San Paolino di Nola. Its crowning event is the Dance of the Giglio, where men lift and carry a seventy-foot-tall, four-ton tower through the streets, bearing its weight on their shoulders. Drawing on six years of research, Alyssa Maldonado-Estrada tells the story of how this Italian American tower comes into being. Lifeblood of the Parish (NYU Press, 2020) evocatively presents Catholicism in Brooklyn, where religion is raucous and playful. It offers a new lens through which to understand men's religious practice, showing how men and boys become socialized into their tradition and express devotion through unexpected acts like woodworking, fundraising, and sporting tattoos.