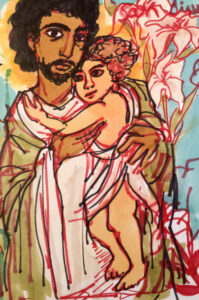 A Call for Articles for an Edited Book
Devotion, Artistry, and the Cult of St. Joseph
Edited by Leonard Norman Primiano and Joseph Sciorra
Abstracts due: July 1, 2020
Papers due: January 1, 2021
Interest in and devotion to the husband of the Virgin Mary and foster-father of Jesus—Joseph the Carpenter—has been present among Christians since the earliest centuries of the Common Era. Joseph has been deemed the patron saint of workers, sickness, and even a happy death. In places like Sicily as well as among Italian Americans devotion to St. Joseph is marked by elaborate altars (tavole) assembled on his feast day of March 19th with cornucopian displays of gastronomical delights.
We are seeking scholarly articles from a variety of disciplinary perspectives for an edited, peer-reviewed anthology on the global veneration of St. Joseph. The proposed book seeks to explore the historical and contemporary devotion, as well as intimate and institutional interactions with this wonder worker. Special emphasis will be placed on how devotees of St. Joseph have artistically and creatively expressed their familiar connection to a beloved, but still excitingly mysterious, holy figure. Our plan is to submit the manuscript in the new year to a university publisher.
We are looking for scholarly articles of original, unpublished research that encompass different disciplinary fields (e.g., biblical studies, religious studies, art history, cinema studies, literary criticism, anthropology, folklore and folklife) and that address a wide range of possible topics.
DEADLINE FOR SUBMISSIONS
An abstract up to 500 words and a brief curriculum vitae are due by July 1, 2020. If accepted, authors should plan to send completed articles (approximately 6,000 words) by January 1, 2021.
Abstracts, final papers, and other inquiries should be emailed to Leonard Norman Primiano (primiano@cabrini.edu), and Joseph Sciorra (joseph.sciorra@qc.cuny.edu).
Click here to read the entire Call for Papers document, including information on deadlines and rules for submission.